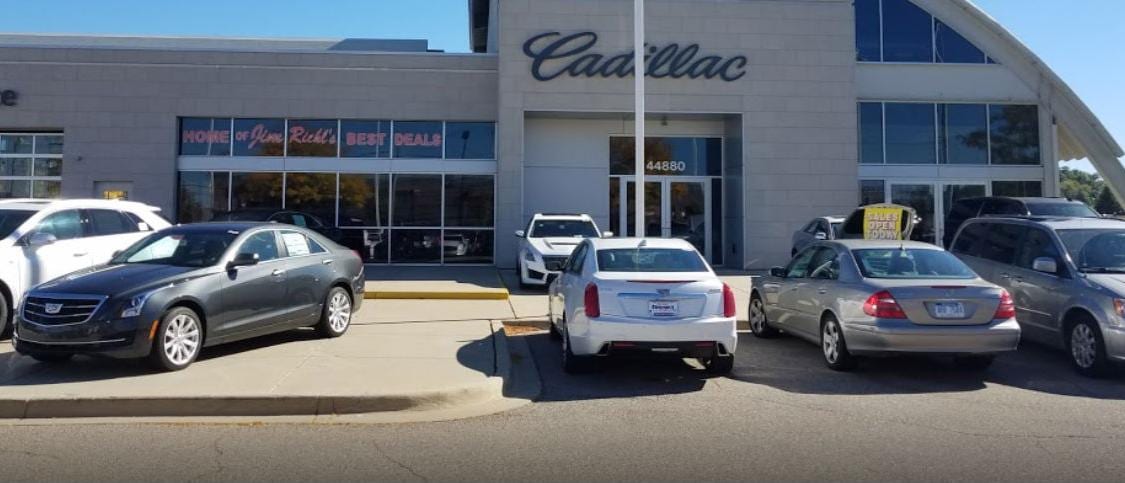 THE CADILLAC DEALERSHIP TROY, MI RESIDENTS TRUST
What goes into finding a Cadillac Dealer near Troy, MI that can be trusted? The number one thing that many people look for is whether or not they can buy the car that they want at an honest price. This is something that absolutely can be done at Jim Riehl's Friendly Cadillac. There's a reason why this dealership has won so many awards.
A Good Troy, MI Cadillac Dealership
Troy, Michigan is a city of 80,000 people that's considered to be one of the safest cities in the state. It's a part of the Detroit Metropolitan area, and it has a thriving business center. There are plenty of things to do in the city, including walking through Bloomer Park and spending a day at Red Oaks Water Park. You can add shopping for a Cadillac to that list, thanks to the fact that a great Cadillac Dealer near Troy, MI is located in the area. This dealership is Jim Riehl's Friendly Cadillac, where all of the employees live up to the name, thanks to their friendly demeanor.
This car dealership near Troy, MI has been in business for quite some time. They've won awards for their service, as well as their overall sales volume. In order for their sales volume to be so high, they need to meet two criteria - have a wide array of vehicles for sale, and some good prices on top of that.
Finding a Good Pre-Owned or New Car
Speaking of finding the best car for your needs from a Cadillac Dealer near Troy, MI, Jim Riehl's has plenty of vehicles for you to choose from. The Cadillac name is synonymous with two things - well-built vehicles and luxury. You'll find that both of these things are true when you first step foot onto the lot. The cars and SUVs that are on sale here meet both of those criteria.
New vehicles, including SUVs, sedans, and even coupes, among others, are plentiful at this Cadillac Dealer serving Troy, MI. You'll find a lot of them to pick from, so you shouldn't have an issue. Your biggest concern might be picking a color, not having to settle for a model that doesn't fulfill your dreams of owning a Cadillac.
The pre-owned vehicles have all been examined thoroughly by the trained service technicians that this dealership employs. You'll have a hard time finding a Cadillac Dealer near Troy, MI with better service techs and writers. They know that people expect to see pre-owned cars that are in great running condition. It's even better if they're priced reasonably and have low mileage. In addition to this, people want to see choices. They want to pick the best car for them from among dozens of possibilities, not just three or four. Jim Riehl understands this and makes sure that there are plenty of pre-owned cars to pick from.
Get Your Vehicle Serviced at a Quality Cadillac Dealership
Whether your car is new or pre-owned, you'll need to take it to a Cadillac Dealer near Troy, MI in order to get it serviced. There are general maintenance requirements, which must be done in order to keep your Cadillac in good running condition. On top of that, you might find that your car needs a repair or two over the years. If you bring it to Jim Riehl's Friendly Cadillac, then it will be in good hands. The service technicians all know what they are doing and can get your vehicle back out on the road as fast as possible.
Now that you know about one of the great Cadillac Dealer Troy, MI, it's time to head over and see what they have to offer!