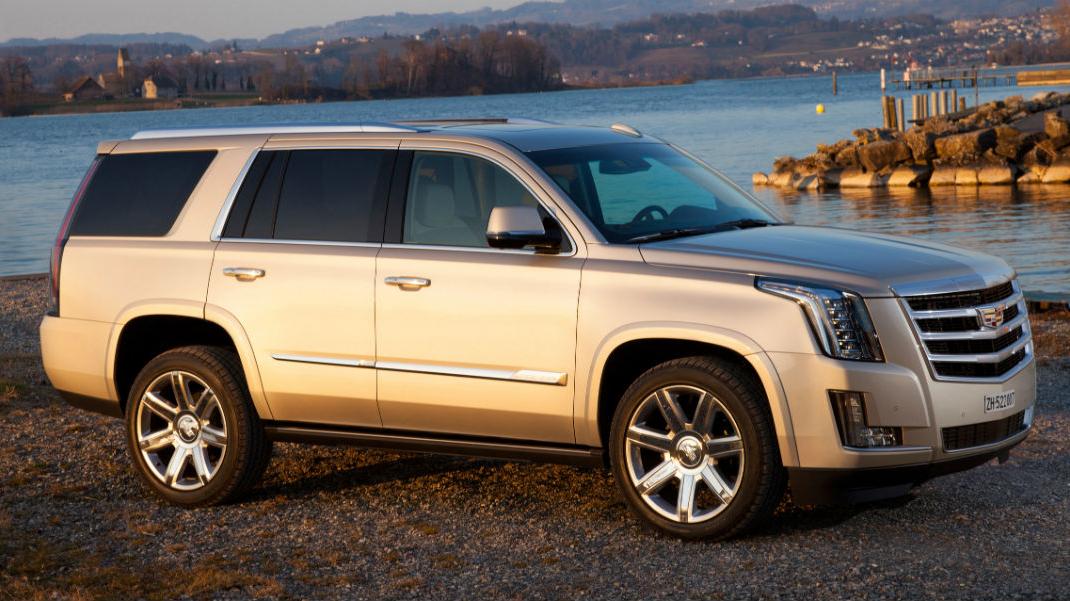 JIM RIEHL'S FRIENDLY CADILLAC DEALER NEAR ROYAL OAK, MI
Here's Why Jim Riehl's Friendly Cadillac Is Right for You
When it comes time to upgrade to a new car, the staff at Jim Riehl's Friendly Cadillac dealers near Royal Oak, MI is here for you. Browse our selection of new and pre-owned vehicles online or in-person by stopping by our showroom today. We are here to serve the people of Royal Oak and those across Michigan, and we stand by our promise of exemplary friendly service. In fact, friendliness is our commitment to you at Jim Riehl's Friendly Cadillac.
If you've been putting off buying a new car because the whole process feels overwhelming, then Jim Riehl's Friendly Cadillac is the dealership for you. Our customers say the staff at Jim Riehl's Friendly Cadillac "are the epitome of customer service" and that they "can't say enough good things about the service department." Browse the over 800 customer reviews to see why Jim Riehl's Friendly Cadillac is the place for you if you're near Royal Oaks, Michigan.
Aside from the promise of top tier customer service, the staff at Jim Riehl's Friendly Cadillac can show you around our beautiful showroom where we showcase this year's latest models. Choose from Cadillac's newest line of SUVs, sport utility crossovers, and sedans.
Financing and Trade-ins are Easy
Our staff will be happy to review your finance application online and speak to you over the phone. Once you've experienced our professional staff service over the phone, you can meet with the representative you spoke to in person. This way you'll already know them, and they will already have gotten to know what type of vehicle you're looking for.
Don't underestimate the options available on our website. Jim Riehl's Friendly Cadillac has gone to great lengths to make an appealing and user-friendly experience online with new models and pre-owned vehicles to browse, information about the owners and sales team, and helpful tools such as the credit score estimator and financing request form.
Wondering how much you might get for your current vehicle but don't want to come in person? That's not a problem thanks to our partnership with Kelley Blue Book. You can find out exactly how much you can expect to get for your current vehicle down to the exact dollar by inputting the features of your vehicle all the way down to the color, trim, and any extras. 98% of the time, Jim Riehl's Friendly Cadillac will pay more than Kelley Blue Book suggests.
An Impressive Selection of Vehicles
Once you have an idea of how much you have to work with, visit our new models or pre-owned sections to begin browsing vehicles in the Royal Oaks area today. When you're ready, give us a call, or stop by today for a chat with our friendly staff. Choose from our wide range of vehicles including Cadillac's 2019 line of sport utility crossovers, SUVs, and sedans.
Once you've chosen from Cadillac's super lineup, your relationship with Jim Riehl's Friendly Cadillac doesn't have to end. Bring your new Cadillac by the service and parts center where you can receive certified service on your vehicle with a dealer near Royal Oak you can trust.
Earn Rewards
Cadillac even offers a program called My Rewards that rewards customers for choosing Cadillac. Just as Cadillac is known for quality, Jim Riehl's Friendly Cadillac is known for our friendly service. Our professional sales team is trained to put the customer first and will help you enroll in Cadillac Rewards. It's quick, easy, and free to join and you even get 1,000 points for signing up. Earn another 1,000 points for completing your profile, and earn 20,000 points when you purchase or lease a new Cadillac vehicle.
My Rewards points can be put toward accessories, vehicle services, and more. So why not get paid to take your car to Jim Riehl's Friendly Cadillac with My Rewards. Our staff is here for you and they will answer any questions you might have.
Come to Jim Riehl's Friendly Cadillac near Royal Oak, MI
Even if you can't make an appointment, walk-ins are welcome, and we won't pressure you into a decision you aren't ready for.
Jim Riehl's Friendly Cadillac dealers in Royal Oak, MI is where class meets character, and you won't regret letting us serve you in the Royal Oaks, Michigan area today.