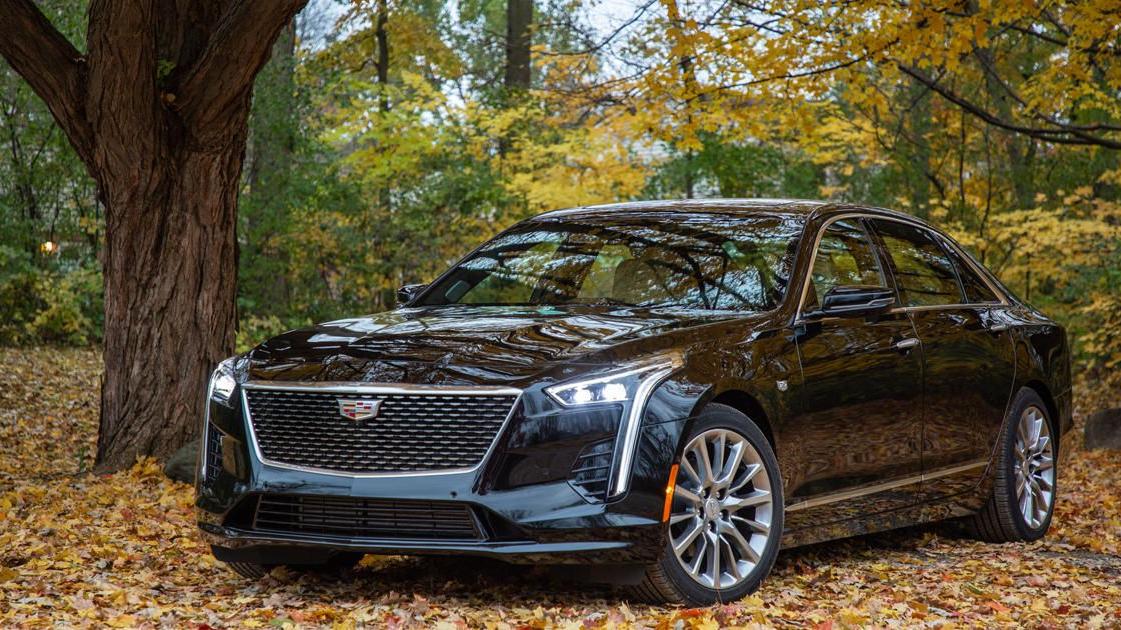 TRUSTED CADILLAC DEALER NEAR PONTIAC, MI
Why You Should Choose Jim Riehl's Friendly Cadillac
When you need a new car, choosing between Cadillac dealers Pontiac, MI has to offer can be somewhat intimidating. You don't want to find yourself in a situation where a sales representative is pressuring you into a decision. The whole process can be rather unnerving if you don't have any prior experience. Speaking with strangers and trusting them to help you make an expensive investment such as a new vehicle can be challenging.
This is why Jim Riehl's Friendly Cadillac has an emphasis on friendly, down-to-earth service. We understand that the process of buying a car from a stranger can be intimidating, so Jim Riehl's Friendly Cadillac makes an exceptional effort to be more than just a place from which you buy a car. That's why we are one of Michigan's most trusted Cadillac dealers near Pontiac.
Jim Riehl's Friendly Cadillac has a vast selection of Cadillac including the latest models as well as pre-owned vehicles. Located in Clinton a short drive from Pontiac, Michigan, Jim Riehl's Friendly Cadillac is a dealership that prioritizes the customer and puts an emphasis on friendliness. As well as offering new Cadillac models, we are a reputable used car dealership near Pontiac.
Cadillac XT5 near Pontiac, MI
Our dealership carries bestselling models such as the all-new 2019 Cadillac XT4, the 2019 CTS, and the 2019 CT6. Driving in the icy conditions of Pontiac, Michigan can be challenging, so why not consider a vehicle such as the 2019 Cadillac XT5 four-door wagon with front-wheel drive and a 3.6-liter V6.
The Cadillac XT5 is a great combination of sports utility and luxury that performs when you need it to. It boasts 310 horsepower and 26 miles per gallon on the highway. There is a host of colors to choose from including Red Passion, Crystal White, and Deep Amethyst Metallic to name a few.
Cadillac CT6 near Pontiac, MI
If enjoying a cruise in a sedan in Pontiac, Michigan's beautiful sunny summer weather is more your style, the 2019 Cadillac CT6 offers an unmatched combination of comfort and elegance. The 2019 Cadillac CT6 is a four-door sedan with a streamlined body and an intense angular silhouette.
The 2019 CT6 comes with a 2.0-liter four-cylinder engine, a 3.0-liter V6, a 3.6-liter V6, or a 4.2-liter V8. Even if the V8 is more powerful than you need, don't worry, the 2.0 and 3.0-liter engines still put out 237 and 404 horsepower respectively. All models of the 2019 Cadillac CT6 are equipped to perform in Pontiac, Michigan's weather year-round. Even in deep snow, the 2019 CT6 will get you where you're going with its all-wheel drive in style. Hurry, as the CT6 is selling fast.
Test Drive the Cadillac Escalade in Michigan
If you have a large family and need a vehicle that you can take camping and on outdoor excursions such as skiing trips, the 2019 Cadillac Escalade is an excellent choice.
The Cadillac Escalade has been a favorite among SUV enthusiasts since 1999 when it was first revealed. Since then, the Escalade has undergone many improvements while still retaining that iconic look that serves as both a symbol of status and one of the nation's leading sport utility models.
With a gorgeous design on the outside, the inside is just as beautiful and exemplifies Cadillac's commitment to comfort, even in their most rugged and durable vehicles. The 2019 Cadillac Escalade has a V8 engine with 420 horsepower and a 10-speed transmission that still manages to get 23 miles per gallon on the highway. The Premium Luxury model even comes with all the latest features including rear seat entertainment systems, illuminating door handles, and a driver-assist package, all while offering an 8,300-pound max towing capacity.
Financing and Servicing
Vehicle shoppers in Pontiac, Michigan will enjoy choosing their dream car from Jim Riehl's Friendly Cadillac dealership's impressive lineup, but choosing your new car is only part of the process. Jim Riehl's Friendly Cadillac is here to help you acquire financing in a quick and painless manner.
Once you've driven away in your new Cadillac of choice, you will be able to return to Jim Riehl's Friendly Cadillac for all of your service and repair needs right at the dealership. With their own service center, you won't have to go anywhere but your dealer for all of your vehicle's needs. Cadillac dealers in Pontiac, MI can help you find the right vehicle for your needs, and should you choose Jim Riehl's you might just make a new friend while you're at it.